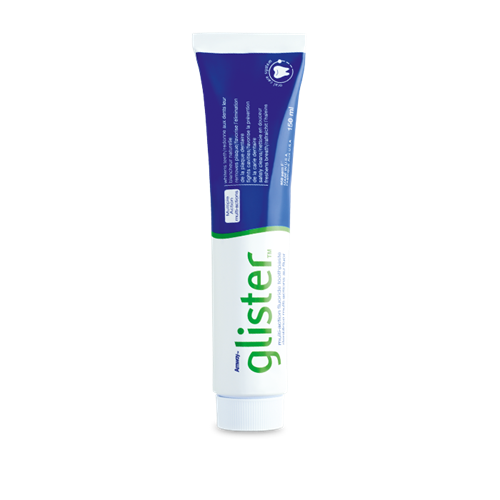 Glister™ Multi Action Fluoride Toothpaste (150ml/200g)
A multi-action fluoride toothpaste with SYLODENT™B Silica; provides optimum abrasiveness for effective stain removal with enamel safe polishing. Clinically tested to remove plaque and fight cavities with regular brushing, leaving your teeth sparkling clean and fresh.


FEATURES:
Contains SYLODENT™B silica, a cleaning and polishing agent
Contains fluoride
Freshens breath

BENEFITS:
Helps remove coffee, tea and tobacco stains effectively
Does not damage enamel
SYLODENT™B has uniquely shaped edges with precise control of particle size to clean and whiten teeth without bleaching
Aids in the prevention of dental cavities
Leaves mouth and breath feeling refreshed.
GLISTER™ Multi-Action Fluoride Toothpaste is a multi-functional/multi-action all-in-one product that helps remove plaque with regular brushing.
Containing SYLODENT™ silica, a cleaning and polishing agent, GLISTER™ safely cleans and polishes your teeth. The uniquely shaped edges and precise particle size of the silica enables excellent cleaning whilst whitening teeth without bleaching.
This unique GLISTER™ polishing action will also help to remove surface stains on teeth from tea, coffee and tobacco, leaving your teeth whiter. GLISTER™ Multi-Action Fluoride Toothpaste also contains sodium fluoride, the same fluoride used by dentists, which helps to harden tooth enamel.
GLISTER™ Multi-Action Fluoride Toothpaste comes in two sizes; recommend the large family tube for the family bathroom and the travel size tube which is a perfect size for taking away on a trip, to work or to school.

USAGE:
Not recommended for children under the age of six.
We Also Suggest