Health
NUTRILITE™ Echinacea Plus - 120 tablets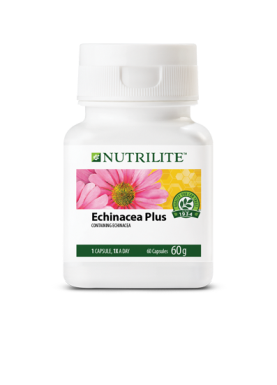 NUTRILITE™ Echinacea Plus - 120 tablets
NUTRILITE™ Echinacea Plus combines the three parts of the Echinacea plant to offer a great amount of phytonutrients.
FEATURES:
Contains certified organic echinacea grown at Trout Lake Farm and harvested at an ideal stage of development. Echinacea is widely used by people around the world.
Tablets contain a blend of Echinacea extracts.
Contains 3 forms of organically grown Echinacea from Trout Lake Farm.
No artificial colours, flavours or preservatives added.
Each form of Echinacea is scientifically fingerprinted to key marker compounds: Chicoric Acid and two separate alkylamides.

BENEFITS:
Echinacea is organically grown without the use of pesticides.
Especially suitable for those who want high quality ingredients.
RECOMMENDED FOR:
Anyone who travels frequently or may be sensitive to a changing environment with additional stressors placed on the body

USAGE:
Take 3 tablets, in divided doses, with meals on the first day. Then continue with 3 tablets a day for up to 2 weeks. In order to maintain maximum benefit, daily use beyond two consecutive weeks is not recommended.
INGREDIENTS:
Corn Starch
Stabiliser: Microcrystalline Cellulose, Crosslinked Sodium Carboxymethyl-Cellulose
Echinacea Extracts (Purpurea Herb and Root and Echinacea Angustifolia, 23%)
Citrus Extracts
Maltodextrin
Anti-caking Agents: Fatty Acids, Silicon Dioxide
Humectant: Glycerol
Glazing Agent: Carnauba Wax
NUTRILITE™ Echinacea Plus Nutrition Information
Per Capsule
Echinacea Purpurea Herb and Root
23%
Echinacea Angustifolia Root
23%
Citrus Extracts
We Also Suggest