Health
NUTRILITE™ Daily - 60 tablets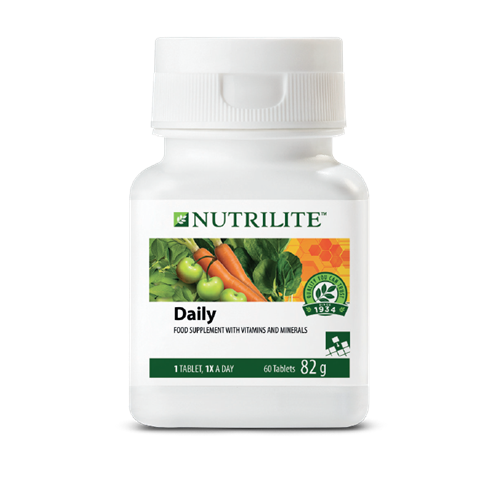 NUTRILITE™ Daily - 60 tablets
NUTRILITE™ Daily is a once-daily multivitamin offering a potent, convenient way to help fill the nutritional gaps in your daily diet with the added nutritional benefits of exclusive NUTRILITE™ plant concentrates with phytonutrients. One NUTRILITE™ Daily tablet per day provides the benefit of 18 essential vitamins and minerals, plus the organically sourced plant concentrates that deliver the natural, nutritional support of phytonutrients.


NUTRILITE™ Daily provides a wide spectrum of essential vitamins and minerals in a convenientonce-a-day tablet.
NUTRILITE™ Daily contains exclusive NUTRILITE™ plant concentrates with phytonutrients.This adds nutritional support that goes beyond vitamin and mineral benefits.

Many of the plant concentrates in NUTRILITE™ Daily are sourced from organic farms and deliver rich levels of phytonutrients.
FEATURES:
Supplies 10 vitamins and 8 minerals.
Contains the exclusive NUTRILITE™ Concentrate.
NUTRILOCK™ Coating.
No artificial sweeteners, preservatives, flavours or colours added.

BENEFITS:
Range of vitamins and minerals provide broad nutritional coverage and balance of nutrients.
The exclusive NUTRILITE™ concentrate provides natural plant materials and valuable associated food factors.
NUTRILOCK™ coating preserves freshness, locks in nutrients until tablets are consumed and makes tablets easier to swallow.
Especially suitable for those who want to avoid artificial additives.
RECOMMENDED FOR:
This product is suitable for adults and children 12 years and older who are not sure if the nutrient content of their foods is nutritionally balanced if the food they eat is highly processed, cooked, and/or stored for extended periods of time, thus reducing thefreshness. Tablets should be crushed for smaller children
These tablets may also benefit those people who smoke, drink alcohol, or are under physiological stress, because these lifestyles may rob the body of essential nutrients
Individuals who find it difficult to eat fresh fruit, vegetables and whole grains every day or are elderly, pregnant or breast-feeding willalso derive benefits from these tablets

USAGE:
Swallow one tablet daily with liquid
Preferably take your supplements with a meal
Tablets should be crushed for smaller children aged 12 or older
Active IngredientsNUTRILITE™ Concentrate:
Alfalfa
Watercress
Parsley
Spinach
Carrots
Acerola Cherries combined with selected
yeast,
Tricalcium Phospate,
Mixed Tocopherols,
Beta Caroteneand Kelp.
NUTRILITE™ Daily Nutrition Information
Per Tablet
%SARDA†
Vitamin A (Retinol)
748 mcg
75
Vitamin D (Calciferol)
2,5 mcg
50
Vitamin E (Tocopherol)
10 mg
100
Vitamin C (Ascorbic acid)
80 mg
133
Thiamin (B1)
2,6 mg
186
Riboflavin (B2)
3,2 mg
200
Vitamin B6 (Pyridoxine)
3,2 mg
160
Vitamin B12 (Cyanocobalamin)
5 mcg
500
Niacin (B3)
20 mg
111
Pantothenic Acid
8 mg
133
Calcium
200 mg
25
Phosphorus
125 mg
16
Iodine
120 mcg
80
Iron
14 mg
100
Magnesium
100 mg
33
Copper
1 mg
+
Zinc
14 mg
93
Manganese
1 mg
+


† Recommended Daily Allowance
+ RDA not established


We Also Suggest