Health
NUTRILITE™ Lecithin E - 110 tablets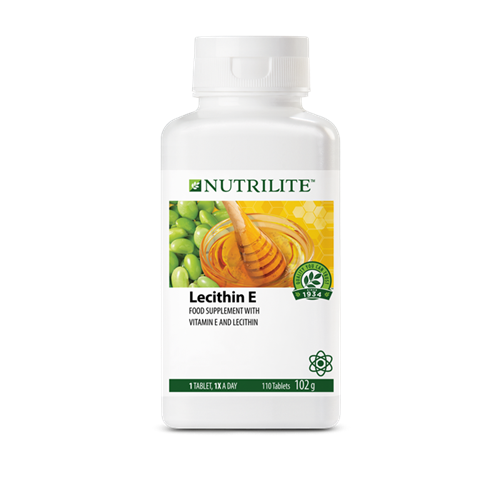 NUTRILITE™ Lecithin E - 110 tablets
NUTRILITE™ Lecithin E is a naturally-derived source of lecithin from soybeans and vitamin E from vegetable oil. This excellent combination of vitamin E and lecithin is provided in a pleasant tasting, chewable tablet.

Lecithin is an emulsifier of fatty substances; it is a component of almost every cell in the body. Lecithin is also a good source ofcholine, sometimes referred to as a B vitamin, and linoleic acid, an essential fatty acid.
FEATURES:
Contains 30 IU (20 mg) of vitamin E and 290 mg of lecithin per chewable tablet.
Chewable.
Sweetened and flavoured with honey, carob, natural maple and walnut flavour.
No artificial preservatives.

BENEFITS:
Appropriate for both children and adults who have difficulty swallowing tablets.
Pleasant tasting. Carob gives a cocoa-like flavour but is caffeine-free.
Especially suitable for those who want to avoid artificial additives.
RECOMMENDED FOR: Anyone who
Has low amounts of vegetable oils, nuts, seeds, wheat germ and soybeans in their diet
Smokes, exercises, eats deep-fried fatty foods, sunbathes, consumes alcohol, and/or diets often
May not be meeting the requirement for vitamin E
Is interested in increasing his/her antioxidant protection
Is interested in supplementing with lecithin

USAGE:
Chew one to three tablets daily with a liquid
Preferably take supplements with a meal.
INGREDIENTS:
Lecithin (from soy)
Soy protein
Honey
Dextrose
Vitamin E (as D-Alpha-Tocopheryl Acid Succinate)
Corn Starch
Carob Powder
Anti-caking Agents: Silicon Dioxide, Microcrystalline Cellulose, Magnesium Salts of fatty acids
Stabiliser: Tricalcium phosphate
Natural Maple Walnut Flavour
NUTRILITE™ Lecithin E Nutrition Information
Per tablet
%EU RDA†
Vitamin E
30 IU /20 mg
200%
Lecithin
290 mg
+


†Recommended Daily Allowance
+No RDA established



We Also Suggest