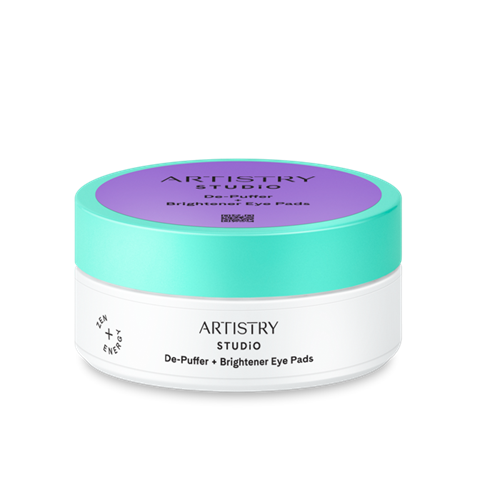 Artistry Studio™ De-Puffer + Brightener Eye Pads
Get the look of a great night's sleep in minutes! These Artistry Studio Skin serum-infused pillow masks instantly cool down puffiness and recharge skin for brighter, well- rested eyes. Apply, wait 10 minutes, and enjoy an instant wakeup. Tag a night owl BFF that would love this quick recharge for eyes.
Can you spare 10 minutes for a well-rested look?
Grab Artistry Studio Skin Eye Pads whenever eyes need a pick-me-up! These little mini masks work wonders to reduce puffiness, hydrate skin and brighten the eye area.
Remove two mini-masks out of the jar (spoon included!) and place under each eye. Leave on for 5-10 minutes, remove and discard mask and pat in any remaining serum on skin.
Puff, poof, gone. Who says there's no such thing as a quick fix? Take puffy eyes to rested and radiant in 5-10 minutes with serum-packed Artistry Studio Skin De-Puffer + Brightening eye pads.