Health
XS™ Whey Protein French Vanila Creme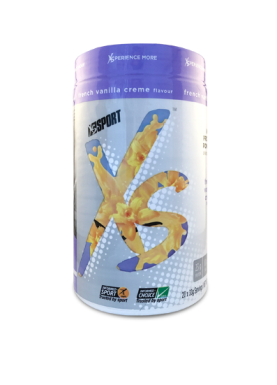 XS™ Whey Protein French Vanila Creme
Keep it real with no preservatives or banned substances!

XS™ Whey Protein Powder is a cross over that could be used to simply maintain lean muscle mass. Loaded with 23 g of premium quality Whey Protein Blend for a complete sustained nutrient release. The Low Carb formulation provides 9 essential amino acids and digestive enzyme blend crucila for your next challenge.
20 x 33 g servings
Features
Fuel your passion
Excellent source of High-Quality Protein

Low Carb Formulation with 9 essential Amino Acids
Benefits
Preserve Lean Mass

XS Whey Protein Powder is also a cross over that may be used to:
Lose fat and preserve lean muscle
Reduce Hunger
Muscle strength and recovery
SUGGESTED USAGE
Add 3 x heaped tablespoons (33g) to 200 ml chilled water into a shaker and shake to desired consistency and enjoy immediately before and/or after training. It can also be included as an ideal in-between meals snack in support of a varied balanced diet and a healthy lifestyle.
You should also consider taking whey protein as soon as you roll out of bed. This will stop the muscle breakdown that occurs because of fasting overnight. You can also drink a whey shake as a snack between meals to boost muscle growth and preserve lean muscle mass all of which contribute toward optimal weight management efforts over time.
ADVISORY
Children under 12 years of age, pregnant women and nursing mothers, or anyone with a pre-existing medical condition, or taking any prescribed medication should consult with their medical practitioner before using this product.
Storage Conditions: Keep out of direct sunlight and store at room temperature (20 - 25°C ) in a cool dry place.
Whey Protein Blend [Whey Protein Concentrate (cow's milk), Whey Protein Isolate (cow's milk) and Whey Protein Hydolysate (cow's milk)], Inulin, Cocoa Powder (only in Triple Chocolate Mousse flavour), Inulin, Flavouring, Xanthan gum (stabilizer), Salt, DIGEZYME® (Digestive Enzyme Blend), Colorant (E160a only in French Vanilla Creacute;me flavour), Sucralose (non-nutritive sweetener).
XS™ Whey Protein Powder
Per 100g
Per Serving 33g
% NRV*
Energy
1484 kJ
490 kJ
Protein
70.0 g
23 g
41%
Total Carbohydrates
5.0 g
1.7 g
Of which Sugars
4.0 g
1.4 g
Total Fats
6.0 g
2.1 g
Of which Saturated
4.0 g
1.2 g
Dietary Fibre* AOAC991.43
8.0 g
2.8 g
Sodium
500 mg
165 mg
Potassium
544 mg
179 mg
Calcium
466 mg
154 mg
12%
Magnesium
62 mg
20 mg
5%
Phosphorous
312 mg
103 mg
8%
*NRV South African Nutrient Reference Value for individuals 4 years and older
We Also Suggest