Health
XS Juiced Power Drink - Dragon Fruit Blast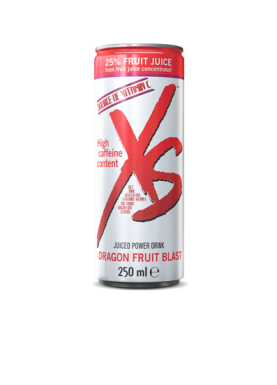 XS Juiced Power Drink - Dragon Fruit Blast
XS Juiced Power Drink is for people who live active lives and aren't prepared to let tiredness get in the way of their plans and ambitions. XS Juiced Power Drink is the positive way to own your day.

Refreshing 25% fruit juice from fruit juice concentrates (22% pear juice and 3% dragon fruit juice from concentrates).
12 x 250ml cans
Great tasting
25% fruit juice from fruit juice concentrate (22% pear juice, 3% dragon fruit juice)
Natural flavourings
Vitamin C to maintain the normal energy-yielding metabolism
B vitamins (3, 5, 6, 12) to reduce tiredness and fatigue
Includes caffeine and taurine
Perfect for sharing. Handy, perfect-portion sized 250ml cans are ideal to for those that are constantly on the move or for those who like to surprise colleagues, friends and family with a burst of happiness.
No added sugar
*Contains naturally occuring sugars
XS Juiced Power Drink is ideal for consumption in the morning, or on any other occasion.

XS Juiced Power Drink is suitable for men and women:
Who want to 'own the day'
Who start early in the morning
Who have busy lifestyles
Who are particularly active and enjoy movement
High caffeine content (32 mg/100 ml). Not recommended for children under 12 years of age, pregnant or lactating women or people who are sensitive to caffeine. Do not consume to excess.
Water, pear juice concentrate, carbon dioxide, dragonfruit juice concentrate, acid (citric acid), glucuronolactone, taurine (0.2%), caffeine, vitamins (vitamin C, niacin, pantothenic acid, vitamin B6, vitamin B12), inositol, natural flavouring, acai berry concentrate, panax ginseng extract, colour (carotenes), sweeteners (acesulfame K, sucralose), preservative (potassium sorbate).
We Also Suggest