Health
Nutrilite™ Balance Within™ - 30-day supply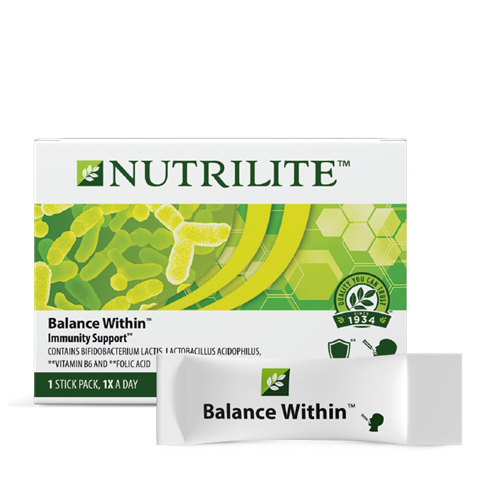 Nutrilite™ Balance Within™ - 30-day supply
A health supplement that contains two strains of probiotics (Lactobacillus acidophilus NCFM + Bifidobacterium lactis HN019), Vitamins B6 and folic acid which contribute to the normal functioning of the immune system and normal psychological function in a convenient stick pack with pleasant-tasting fast-melting powder.
How To Use
Nutrilite Balance Within can be integrated into any lifestyle.
Enjoy this pleasant-tasting, fast-melting powder quickly and conveniently. Anytime, anywhere.
Open the stick pack and gently pour the powder onto your tongue and allow it to dissolve.
Or mix with a cool or room-temperature beverage (e.g. juice or water).
Or enjoy it with a smoothie, shake, breakfast cereal or muesli.
Take with you anywhere and use anytime.
No refrigeration is required.
What It Does for You
Nutrilite™ Balance Within™ offers extra support to your immune system with vitamin B6 and folic acid to help keep you feeling good.
Provides Vitamin B6 which contributes to normal functioning of the nervous system; contributes to normal
homocysteine metabolism; contributes to normal psychological function and normal immune function.
Provides Folic acid which helps red blood cells formation and a factor in maintaining good health.
Supports your immunity. Vitamins B6 and B9 (folic acid) support the normal functioning of the immune system.
Provides 6 billion units of scientifically documented probiotics.
Integrates easily into your schedule because the fast-melting, pleasant-tasting powder can be put directly on the tongue and so can be taken anywhere, anytime.
Supports a healthy lifestyle by offering support to the immune system with vitamins B6 and folic acid and complementing efforts to eat, sleep and exercise well.
Helps you to be proactive about your diet and focus on enjoying and looking after good health.
Why You Would Like It
Nutrilite™ Balance Within™ is a health supplement that contains 2 B-vitamins that contribute to the normal functioning of your immune system and to maintaining good health. Each stick pack also contains 6 billion units of 2 scientifically documented strains of probiotics. Coming in the form of a fast-melting, pleasant-tasting (thanks to a hint of vanilla) powder that can be placed directly onto the tongue and packed in single-portion stick packs, Nutrilite™ Balance Within™ is convenient and easy to integrate into any diet and any lifestyle. It's a great way to support your healthy lifestyle.
Key Features
The B-vitamins B6 and folic acid support the normal function of the immune system. They also contribute to normal psychological function. Vitamin B6 contributes to the normal functioning of the nervous system.
There are 6 billion probiotics in every portion of Balance Within. There are 2 strains of probiotics – Lactobacillus acidophilus (NCFM) and Bifidobacterium lactis (HN019) – both of which are scientifically well-documented.
Probiotics arrive alive. The strains have a very good acid tolerance so you can be confident that the vast majority of the 6 billion probiotics in each portion arrive alive in the gut.
Convenient delivery method in the form of a fast-melting, pleasant-tasting powder in single-portion stick packs that can be taken on their own or with food or beverages, and can be used anytime and anywhere, with no need to refrigerate.
Facts for You
70% of the immune system is located in the gut (approximately 70% of immunologically active cells are in the intestinal lining).
A healthy gut contributes to a strong immune system, heart health, brain health, supports mood, healthy sleep, and effective digestion, and helps maintain overall health and wellbeing.
Nutrilite™ is the world's No.1 selling vitamins and dietary supplements brand* and has 80+ years' experience combining nature and science to help people live healthier.
* Source: Euromonitor International Limited; Vitamins and Dietary Supplements category, % retail value share, 2020 data.
Recommended For
Health conscious men and women who understand the benefits of maintaining the right balance of probiotics for gut health and immunity.

Those who proactively aspire to live healthy lifestyles without compromise

Those who desire to support general wellbeing while enjoying the convenience of use.

Children from 14 years of age.
Bulking agent (isomalt), Bifidobacterium animalis subsp. lactis HN019™, Lactobacillus acidophilus NCFM™1, anti-caking agent (silicon dioxide), pyridoxinehydrochloride, pteroylmonoglutamic acid, vanilla flavouring (contains milk).
RECOMMENDED DOSAGE: One stick pack per day
AVERAGE CONTENT

PER DAY (1 stick pack)

%NRV*

Vitamin B6 …………………………..…..…….1.4 mg

………………………………………100

Folic acid (vitamin B9) ……………………200 µg

………………………………………100

Lactic acid producing bacteria / Lactic acid producing bacteria:

Bifidobacterium animalis subsp. lactis HN019™………5 × 109 cfu*** / cfu***

Lactobacillus acidophilus NCFM™1…………………………...1 × 109 cfu*** / cfu***

* % of Nutrient Reference Value

*** colony forming units / colony forming units