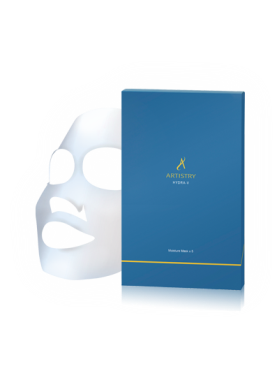 ARTISTRY HYDRA-V™ Moisture Mask
With instant hydrating results, the ARTISTRY HYDRA-V Moisture Mask leaves the skin hydrated, refreshed and looking healthy. Ease of application coupled with a special formula is the latest in skin hydration.
Size: Each pack contains 5 microfibre tissue masks.
FEATURES
Each sheet of HYDRA-V Moisture Mask contains 30g of highly concentrated hydrating essence which includes Hyaluronic Acid* and HYDRA-V Liposome with Norwegian Fjord Water.

Instant hydration and improvement of your skin elasticity.

Immediate and long-lasting effects (hydration for up to 8 hours).

All hydrating ingredients are evenly distributed by microfibre sheets.

Continued hydrating effect after the mask is removed.

Suitable for all skin types.
*HYALURONIC ACID
Due to its excellent moisturising properties, hyaluronic acid is often referred to as a "moisture magnet". It is a substance that naturally occurs in human skin and is able to hold 1,000 times its weight in water. Hyaluronic acid contributes to retaining skin moisture and improving its elasticity.
BENEFITS
The special formula ensures that your skin is hydrated and revitalised throughout the day.
Results are immediate and long-lasting (up to 8 hours).
A powerful moisture-locking formula to enhance the healthy look of the skin.
Suitable for travelling.
SUGGESTED USAGE
Wash your face with ARTISTRY HYDRA-V Fresh Foaming Cleanser and tone with ARTISTRY HYDRA-V Fresh Toner, followed by ARTISTRY HYDRA-V Vital Skin Serum Concentrate for optimum benefits.
Open the pouch and take out the mask.
Unfold it then remove fine mesh on inner surface.
Apply on face with the side without mesh facing your face with adjusting the position for its best fit.
Remove large mesh.
Enjoy the relaxing sensation as water ampoules, Norwegian Fjord Water liposomes are delivered to the skin. For maximum hydration leave the mask on for 20 minutes before continuing with your normal skin care regime.
The ARTISTRY HYDRA-V Moisture Mask is an ultrafine fibre sheet mask containing:
The hydrating ampoule formula, which closely adheres to your face, evenly infusing a high concentration Hyaluronic Acid and Norwegian Fjord Water liposomes to ensure rapid hydration of the skin with immediate visible effects.
Hyaluronic acid which continues to hydrate the skin even when the mask is removed.
We Also Suggest