Health
NUTRILITE VITAMIN D - 90 Tablets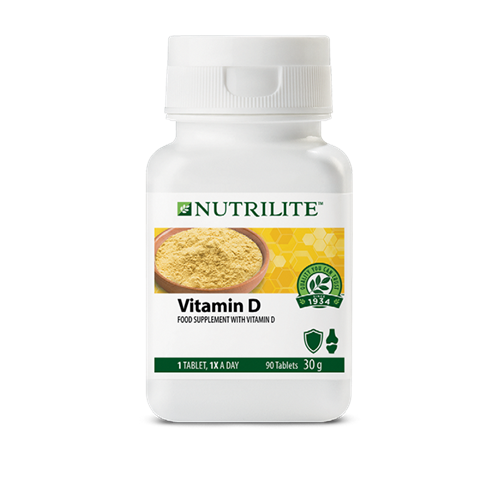 NUTRILITE VITAMIN D - 90 Tablets
NUTRILITE™ Vitamin D is the perfect product to fill the potential nutritional gap caused by a lack of vitamin D.

NUTRILITE Vitamin D is derived from two natural sources. It uses cultured yeast – a high concentrated source of vitamin D – that has been carefully cultured at a NutriCert™ certified partner facility. NutriCert™ certification of partner facility ensures its compliance with the NUTRILITE brand's high-quality standards. The naturally derived, nutrient-rich yeast has been used to create a supplement that is closer to the diverse nutrient spectrum found in the diet than supplements containing only a synthetic form of vitamin D.
RECOMMENDED DOSAGE: Adults take one tablet a day, with or without a meal. PER DAY AVERAGE CONTENT (1 TABLET) % NRV* Vitamin D............................15 µg (600 IU).........300 * % of Nutrient Reference Value
Package:
90 tablets
Nutrilite Vitamin D contains 15 µg of vitamin D. It's made also with brewer's yeast. Vitamin D contributes to the maintenance of normal bones, teeth, normal muscle function and normal function of the immune system. Additionally a varied and balanced diet and a healthy lifestyle are of general importance. Keep out of reach of young children • Food supplements are no substitute for a varied and balanced diet and healthy lifestyle • Please do not exceed the recommended daily dose • Keep bottle tightly closed • Store in a cool, dry place.
* About 30 minutes of daily sun exposure of the arms and face without sunscreen could usually provide the daily vitamin D needs. The amount of Vitamin D produced in the skin with the help of the sun might beaffected by latitude, season, ozone layer and clouds, surface characteristics, clothing, skin colour, and age., Source: EFSA NDA Panel, 2016. Scientific opinion on dietary reference values for vitamin D. EFSA Journal 2016;14(10):4547, 145pp. doi:10.2903/j.efsa.2016.4547; ** Source: Cancer Association of South Africa (CANSA) Researched and Authored by Prof Michael C Herbst [D Litt et Phil (Health Studies); D N Ed; M Art et Scien: B A Cur; Dip Occupational Health] Approved by Ms Elize Joubert, Chief Executive Officer [BA Social Work (cum laude); MA Social Work] September 2017
Maltodextrin, Stabilisers (Microcrystalline Cellulose, Cross-Linked Sodium Carboxymethylcellulose, Hydroxypropyl Methyl Cellulose), Vitamin D Yeast 3%, Modified Starch, Anti-Caking Agents (Silicon Dioxide, Fatty Acids), Sucrose, Antioxidants (Sodium Ascorbate, Alpha-Tocopherol), Humectant (Glycerol), Medium Chain Triglycerides, Cholecalciferol, Glazing Agent (Carnauba Wax)..