Bath & Body
HYMM™ 5-Blade Razor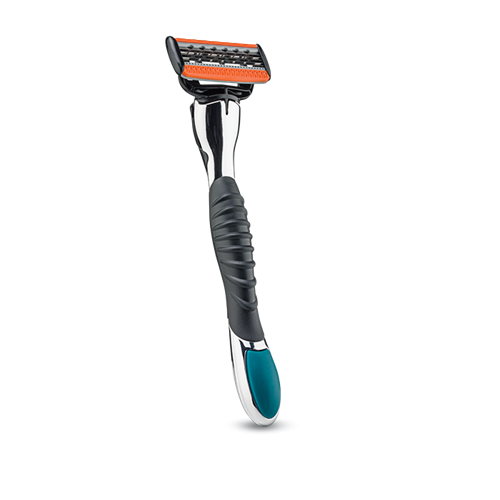 5 blades, 5 times the precision.
A clean look with the motion of the hand: the high-quality 5-blade razor adapts to every facial contour, fits snugly into the hand thanks to pleasant rubber grips and ensures precise shaving with its 5-blade technology.
Comes with a functional push button for fast blade switching and lubricating strip with Vitamin E and Aloe vera that allows the razor to glide over skin, providing extra comfort. Special trimmer for sideburns, goatees and underneath the nose contains guarded ribs for additional safety while shaving.
Size: 1 piece
FEATURES
New technology and superior performance.*

5-blade system with 25% thinner* blades and wider* gliding surface captures even minute stubble with less pressure for a more comfortable, less irritating shave.

Pivoting head follows facial contours to achieve a close shave.

Push button release for easy razor disposal and reloading.

Comes with one HYMM Replacement Blade ready to use
* vs HYMM 3-Blade System.
BENEFITS
Lubricating strip with Aloe Vera and Vitamin E allows razor to glide over the skin, providing extra comfort.

Trimmer for hard to shave areas (sideburns, goatee, under nose) contains guarded ribs to prevent nicking/cutting.

Lasts for an average of 19 uses.*

Dermatologically tested and suitable for sensitive skin.
* According to Consumer Product Research (CPR) done in Germany.
SUGGESTED USAGE
To load or change the cartridge, push the button on the front side of razor handle.
We recommend using together with translucent HYMM Shave Gel for a clean shave and protection your skin against irritation.
For hard to shave areas (sideburns, goatee, under nose) use the trimmer blade on the opposite side of the razor cartridge.
Avoid contact with eyes.
We Also Suggest