Bath & Body
ANCESTRY™ in Paris Eau de Parfum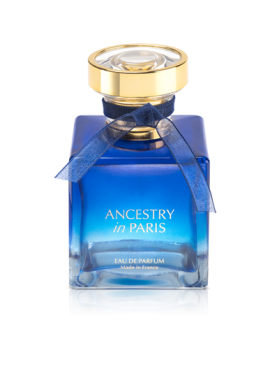 ANCESTRY™ in Paris Eau de Parfum
A sensual and sparkling Eau de Parfum for the woman diving into the mystery of a Parisian night
The latest exclusive addition to the world of fine fragrances is the evocative ANCESTRY in Paris, which captures all the romance of the French capital in a bottle. And when that bottle is gorgeously night-blue and gold-coloured, wearing the contents will bring nights of enchantment!
Size: 50 ml
FEATURES
ANCESTRY in Paris Eau de Parfum for women is a subtly seductive, floral&45;aquatic fragrance that features the essential oil of Night Blooming Jasmine. The high concentration of the oil of this exotic flower, the scent of which can be captured only at night, ensures the perfume's longevity on the skin. Night Blooming Jasmine has an exquisitely distinctive scent, which is complemented by the Eau de Parfum's top notes of fresh flower bouquet, green leaf and sea breeze. These are accompanied by middle notes of peach pulp and rose, and a dry down of amber wood, white musk and tuberose, which make ANCESTRY in Paris the perfect fragrance for special nights out.

BENEFITS
This classically modern fragrance contains high concentrations of fragrance oils, helping the scent to last longer on the skin.

ANCESTRY in Paris features the purest essential oil of night-blooming jasmine, which fuses perfectly with bouquets of fresh flowers and green leaves and sultry undertones of white musk and roses.

This enchanting fragrance, so evocative of heady nights in Paris, is further enhanced by being presented in a gorgeous, jewel-like midnight blue bottle.
We Also Suggest