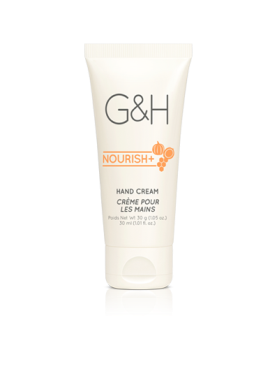 G&H™ NOURISH+™ Hand Cream
A restorative and nourishing water resistent formula for the whole family. A hand cream with a unique lipid blend that leaves skin feeling moisturised for 24 hours — even after hand washing.
SIZE: 3 x 30 ml
FEATURES
G&H NOURISH+ Hand Cream includes enriching formulas with Orange Blossom Honey, Shea Butter and Pumpkin Seed Oil.
Exclusive blend consists of:
Orange Blossom provides nourishing moisture that hydrates and softens skin.
Shea Butter nourishes your skin thanks to containing vitamins A, E and F known to help rebuild skin's moisture barier.
Pumpkin Seed Oil as an antioxidant helps protect your skin against environmental damage.
BENEFITS
• Helps relieve and soothe dry skin.
• Provides 24-hour moisturization.
• Water-resistant formula keeps hands feeling soft and moisturized, even after hand washing. Protects
against dryness caused by cold or hot water.
• Helps rebuild skin's moisture barrier to improve skin's own hydration over time—even after 3 days
without use.


SUGGESTED USAGE

Dispense a pearl-sized amount onto the back of one hand.
Massage into the backs of hands and the cuticles.

DID YOU KNOW?
• 98% of consumers hands felt softer after one use.
• Helps improve and restore skin's own moisture barrier in as little as 5 days.
• Moisturisation lasts up to 24 hours - after a single use.
• Dermatologist and allergy tested.
G&H NOURISH+ Hand Cream containes enriching formulas with Orange Blossom Honey, Shea Butter, Pumpkin Seed Oil which help nourish, comfort, and maintain healthy-looking skin.
We Also Suggest