Health
XS™ Power Drink - Tropical Blast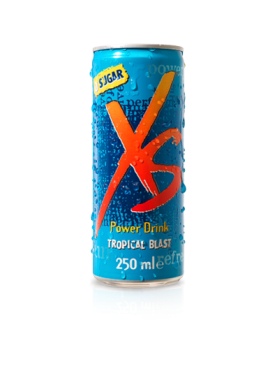 XS™ Power Drink - Tropical Blast
Fast-paced life? Get ready to blast into high gear with the XS Power Drink! XS™ – the first exclusively sugar-free "energy drink" brand sold globally.*

12 x 250ml cans

*Source: Euromonitor International Limited. www.euromonitor.com/amway-claims


FEATURES:
GREAT taste with Tropical Blast flavour.
ZERO sugar and low kilojoules.
High performance formula combines B vitamins, taurine, glucuronolactone, and caffeine
SUGGESTED USAGE
Suitable for men and women:
While going out day and night
With busy lifestyles
While doing sports
Working long hours
When driving long distances
ADVISORY
Do not consume to excess. A varied and balanced diet and healthy lifestyle are of general importance. High caffeine content (32 mg/100 ml). Not recommended for children under 12 years of age, pregnant or lactating women, or caffeine-sensitive people.
Ingredients - XS™ Power Drink - Tropical Blast
Water
Carbon Dioxide
Glucuronolactone
Taurine (0.2%)
Acid (citric acid)
Natural Flavour
Caffeine
Inositol
Niacin (vitamin B3)
Pantothenic Acid (vitamin B5)
Vitamin B6
Vitamin B12
Panax Ginseng Extract
Acai Berry Juice
Non-nutritive sweeteners (acesulfame K, sucralose)
Preservatives (sodium benzoate, potassium sorbate)
Table Salt
Colour (riboflavins, anthocyanins)
High caffeine content (32mg/100ml).
We Also Suggest