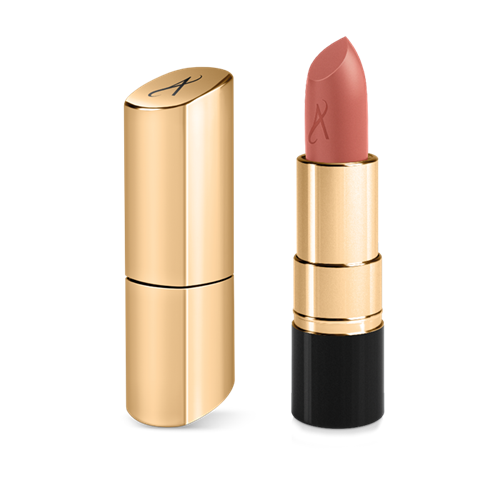 ARTISTRY SIGNATURE COLOR™ Lipstick - Beige Peach
Ingenious new package, stunning new shades, plus hydrating new formulas add up to our most indulgent lipsticks ever.

Lipstick Formula:
Glides on elegantly, making lips look beautiful. Leaving your lips luxuriously soft and smooth, conditioned and hydrated.
Formulated with a translucent base to let the true shade shine through.
Non-feathering, non-bleeding formulas.
Formula contains ARTISTRY SIGNATURE COLOR™ pigments, designed to provide the perfect amount of colour and coverage.
Lipstick Packageing:
An exclusive, custom designed package delivers a lipstick experience that looks as good in your hand as it does on your lips.
The elegant, uplifting design of the award winning ARTISTRY™ Crescendo packageing is now also a hallmark of the ARTISTRY SIGNATURE COLOR™.
ARTISTRY SIGNATURE COLOR™ is introduced in a golden cap, while ARTISTRY SIGNATURE COLOR™ Sheer Lipstick is designed in a black cap.
The ingenious twist and click design, a patented technology system meticulously engineered with 17 parts, assures you the package is closed, and the cap is locked in place.
Lipstick Shades Range:
Alluring spectrum of shades, from soft and subtle tints of various colour families to completely mesmerising shades, selected by Global Make-up Artist, Rick DiCecca.
16 lipsticks stunning shades with full-colour finishes in crème texture.

Size: 3.8g
Feature
A patented, custom designed unique package with an ingenious twist and click design.
New shade palette encompassing a full range of richest relevant shades.
SIGNATURE COLOUR Lipstick formula is infused with a composition of natural oils that helps lock in 36% more moisture.
Dermatologist Tested
Allergy Tested
Fragrance Free
Benefits
Contains deep intense hydrated formula with a blend of vitamin E to help deeply rejuvenate and soften lips.
Formula will not feather or bleed.
Cap stay securely in place.
Impactful range of shades makes it easy to choose the perfect level of colour: 16 shades of full colour of pink-to-berry, coral-to-red and nude-to-brown shades.
SIGNATURE COLOUR Lipstick softens, moisturises and rejuvenates lips.
Twist & Click instructions:
To open the lipstick tube, hold the lower portion of the cap and twist the top portion of the cap clockwise. The lipstick tube will emerge.
Apply the lipstick: begin with top lip. Start at the center of the lip.
Apply lip colour from center to corner. Simply follow the natural shape of your lip.
Repeat on bottom lip.
When finished, place the cap over the tube. Click. And the lipstick is securely locked in place
Lip Colour Tip from Rick DiCecca, Global Make-up Artist:
To extend the wear of your lipstick and create more drama, line your lips with your desired ARTISTRY Lip Define Liner and use it to completely colour the lips. Once prepared, apply ARTISTRY SIGNATURE COLOUR Lipstick directly from the tube.