Bath & Body
SATINIQUE™ Anti-Hairfall Shampoo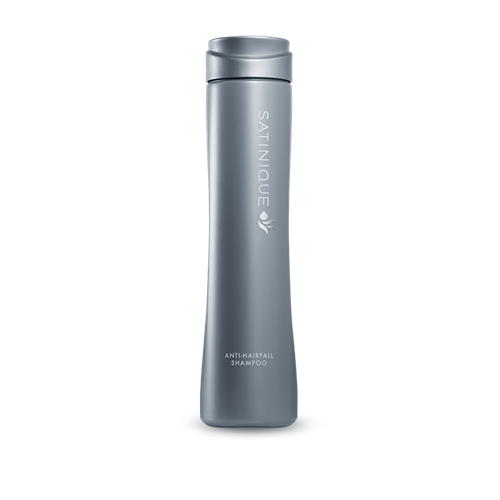 SATINIQUE™ Anti-Hairfall Shampoo
STIMULATE. SUPPORT. STRENGTHEN YOUR LOOK.
Experience the confidence of fuller, thicker looking hair with our highly effective Anti-Hairfallformulas, specially created to revitalise and fortify each individual strand of hair.

A nourishing shampoo and conditioner that energise and simulate the scalp* to promote hair growth and help reduce hair loss due to breakage.


SATINIQUE Anti-Hairfall Shampoo and Conditioner were created to
Care
for hair.
Perfect for reducing breakage of fragile, fine or thinning hair.
Featuring ENERJUVE to restore hair to its natural, healthy-looking state plus the botanicals Ginseng, Eclipta Alba Extract and Mulberry Leaf Extract.
Size: 280ml

* With massage
FEATURES AND BENEFITS
ENERJUVE™: patented complex composed of lipids, 18-MEA and creatineHelps repair and restore hair back to its natural, healthy-looking state. **U.S. Patent 8,263,053
Exclusive formula of hair follicle nourishing ingredientsSaves up to 1800 hair strands a month.
Helps reduce hair loss due to breakage.Leaves hair looking fuller and thicker.*Helps energise and stimulate circulation with massage to aid in thicker, fuller looking hair.* When used as a system of Anti-Hairfall Shampoo, Conditioner and Scalp Tonic
Custom selected botanicals: Unique blend of Ginseng, and Mulberry Leaf ExtractCombination is specially chosen to help increase circulation of the scalp while energising and stimulating the scalp with massage. Helps provide a healthy environment to encourage new growth.Ginseng helps exfoliate the scalp to allow other scalp treatments to absorb more effectively.Mulberry Leaf Extract is known for its antioxidant properties to support healthyhair growth.
USAGE
Apply shampoo to wet hair, massage into hair and scalp using a circular motion. Rinse.
After shampooing, apply conditioner and distribute throughout hair. Rinse.
Gentle enough for daily use.
Frequently Asked Questions
What should I do if I notice a lot of hair falling out while shampooing?
Excessive hair fall is likely due to an underlying condition. Hair fall could also be normal hair shedding or a result of observing hair more carefully while using a new product. If you are concerned about the amount of hair you see fall while washing, you may want to seek a physician.

How does Enerjuve™ Complex work?
This patented, positively charged complex of strengthening lipids, reinforcing creatine, and smoothing 18-MEA works three ways to correct the negative charge found in damaged hair. It penetrates the core, selectively binds to damaged areas, and fortifies weak spots to help repair and revitalise from the inside out.

Can I use Satinique™ products interchangeably?
Yes, the collection was designed to customise based on individual hair and styling needs. Products may be used interchangeably to create this customised approach.

Are Satinique products gluten free?
Yes, Satinique products do not contain any wheat-derived ingredients.

Were Satinique products tested on animals? Do any contain any animal-derived ingredients?
No, Satinique products were not tested on animals. The 18-MEA ingredient from Enerjuve Complex is derived from wool, but sheep were not harmed for this ingredient.

Were Satinique products tested on all hair types?
Yes, Satinique products were tested on a variety of hair types.

Why do some products, despite extensive testing, still cause a skin reaction on some?
No hair care product is guaranteed to be 100% irritation free for everyone. All Satinique products are thoroughly tested for hair compatibility and safety, but there are always a small number of people sensitive to certain ingredients.

Should I switch my daily shampoo? If so, how often?
Switching is not needed – this is a common myth. Instead, choose Satinique products that suit your needs and, if your needs change, consider switching products.


INGREDIENTS
Water/Eau
Sodium Laureth Sulfate
Glycerin
Cocamidopropyl Betaine
Glycol Distearate
Glycereth-26
C10-40 Isoalkylamidopropylethyldimonium Ethosulfate
Ceramide 2
Ceramide 3
Creatine
Dimethicone
Fragrance/Parfum
C12-15 Alkyl Lactate
Sodium Chloride
Guar Hydroxypropyltrimonium Chloride
Hydroxypropyl Methylcellulose
Distearyldimonium Chloride
Panthenol
Tetrasodium EDTA
Citric Acid
Limnanthes Alba (Meadowfoam) Seed Oil
Dipropylene Glycol
Aloe Barbadensis Leaf Juice
PPG-12-Buteth-16
Triethanolamine
Butylene Glycol
Eclipta Prostrata Extract
Sodium PCA
Sodium Lactate
Arginine
Morus Nigra Leaf Extract
Aspartic Acid
PCA
Acanthopanax Senticosus (Eleuthero) Root Extract
Glycine
Alanine
Methylchloroisothiazolinone
Serine
Valine
Behenic Acid
Cholesterol
Isoleucine
Proline
Threonine
Methylisothiazolinone
Histidine
Phenylalanine
Perilla Ocymoides Leaf Extract
We Also Suggest