At Home
SA8™ All Fabric Bleach (500g)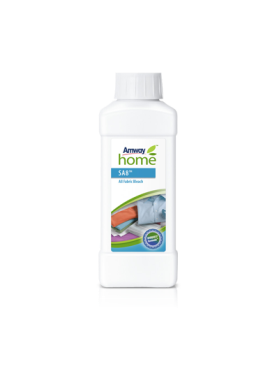 SA8™ All Fabric Bleach (500g)
Use All Fabric Bleach as a pre-soak or with your SA8™ Detergents to remove the toughest stains. Containing active oxygen bleach but no chlorine, it allows you to safely clean and brighten coloured clothes as well as whites.
KEY FEATURES:

Designed as powerful detergent booster to remove even the toughest of stains such as tea, coffee, fruit, juice, wine and dye
Contains oxygen bleach that bleaches out stains on washable white and coloured fabrics
Many non-laundry uses such as scrubbing counter tops and removing tannin/caffeine stains from tea and coffee pots
Kind on colours as it does not contain chlorine
Works at all temperatures from 20°C - 90°C
Fresh, pleasant scent, without the harsh aroma of chlorine bleach
Concentrated and economical to use - 99.5% active ingredients
Biodegradable cleaning ingredients
Dermatologically-tested
Contains no chlorine, so will cause no damage to coloured fabric if accidentally spilt
No phosphates, chlorine, dyes, EDTA, NTA
Safe for septic systems
Non-biological
USES

Acts as a booster to detergent performance in machine washes or as a pre-soak for difficult stains. Used diluted it can remove coffee and tea staining from pots, mugs or cups. It can also be used dry on damp surfaces as an all-purpose cleaner.
HOW TO USE

Recommended as a detergent booster:
- Add 10 ml to each washing machine load. For best results wash at 60°C or higher.


Pre-soak:
- Add 5 ml to two litres of hot water. Soak fabric for 30 minutes or longer and then wash as normal.


Cleaning pots, etc:
- Fill the tea or coffee pot with boiling water and add 5 ml of All Fabric Bleach. Allow to stand for at least an hour, pour away solution and rinse pot thoroughly.


Versatile cleaner:
- For scrubbing counter tops, ceramic tiles, sinks, etc., sprinkle dry powder onto surface and scrub with damp cloth or sponge. Rinse.
We Also Suggest