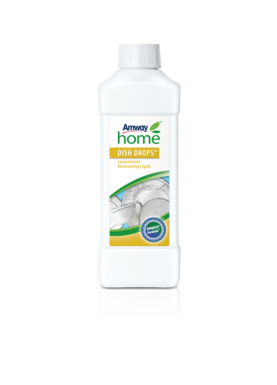 Dish Drops™ Concentrated Dishwashing Liquid (1 Litre)
Effective, highly-concentrated formula cuts through grease and attacks dried-on foods, yet gentle to hands. The powerful formula contains a Quadruple-patented blend of cleansing agents, aloe vera, alphahydroxy acid and natural extracts of the shiso plant.
KEY FEATURES:

Cuts through heavy grease and dried-on food, leaving dishes sparkling clean and residue-free
Highly-concentrated, patented formula is now even more economical to use: more cleaning power with less product
Contains new triple-patented blend of aloe vera, alpha-hydroxy acid (AHA), plus natural extracts of the shiso plant to act as a non-irritant and help maintain healthy skin
84% of the active ingredients are made from natural sources
Better pH stability improves and controls odours commonly associated with kitchen sponges/cloths and drains
Rinses clean easily with no harmful residues
Leaves dishes and sponge/brush hygienically clean
Excellent lathering, giving longer-lasting cleaning power
Contains no phosphates, harsh acids/alkalis or chlorine bleach, which can accumulate or pollute lakes, rivers or streams
Dermatologically-tested and fully biodegradable
Can be diluted in cold water, thereby conserving energy and using less hot water
Fragrance contains essential oils
Paler, purer colour and milder
USES

Suitable for all china, glassware, cooking pots, pans and cutlery, even lead crystal, fine silverware and porcelain.
For heavy grease or baked-on deposits, use it as a pre-soak.
HOW TO USE

For washing individual items:
- Add 1 part DISH DROPS Concentrated Dishwashing Liquid to 3 parts water in the Plastic Squeeze Bottle and swirl to mix.
- Squeeze some solution onto a sponge and wash the items before rinsing.
We Also Suggest