At Home
L.O.C.™ Towelettes (4 pouches x 24 mini wipes)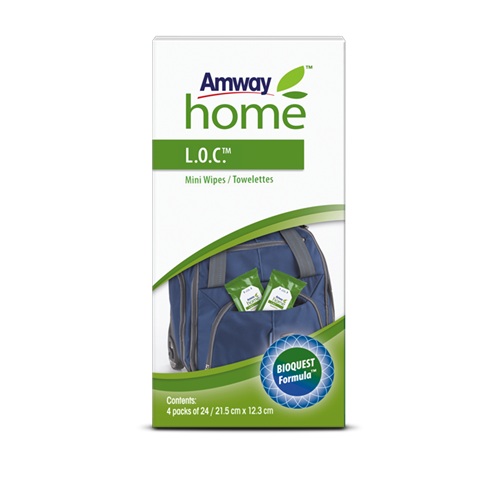 L.O.C.™ Towelettes (4 pouches x 24 mini wipes)
The wipes, pre-soaked with L.O.C.™ Multi-Purpose Cleaner, are available in a convenient, resealable, travel-size pouch. Perfect for keeping in a handbag, car cubbyhole or briefcase.
KEY FEATURES:
Versatile and convenient, these towelettes safely clean most surfaces in one wipe, leavingthem hygienic and smelling fresh
The compact, convenient resealable package keeps each towelette as fresh as the last
Safe for use as a mild hand cleaner for gentle removal of grease and dirt. The cotton-softtowelettes feel great on the skin
Pre-soaked with the gentle power of L.O.C.. Multi-Purpose Cleaner, the strong, absorbent,tear-resistant towelettes are great for cleaning tough spots
Can be used for quick cleaning of spills on textiles
Kind to skin
Dries quickly, no rinsing required, offering convenient, one-step cleaning
Streak-free, non-dulling treatment solution
Towelette size: 22.5 x 12.5 cm
USES
Portable cleaning for all washablesurfaces. Great for hand cleaning and aninstant stain cleaner on colourfast fabrics.

HOW TO USE
Cleaning of washable surfaces:
- Wipe or rub down stain or dirt. No rinsingneeded unless it's a food-contact surface.
Hand cleaner:
- Rub hands thoroughly with towelette andleave to air dry.
Spot removal:
- In the case of spills on colourfast fabrics,blot the stain with a towelette and leaveto dry.
We Also Suggest