At Home
SA8™ Delicate Concentrated Liquid Laundry Detergent (1 Litre)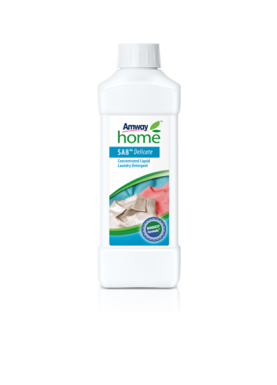 SA8™ Delicate Concentrated Liquid Laundry Detergent (1 Litre)
Specially formulated for excellent performance at the cool temperatures needed for delicates, it can be used for hand or machine washing. Check that fabric is washable and colourfast, before use.
KEY FEATURES:

Specially developed for natural fine fabrics such as wool, silk and linen or for hi-tec sportswear or garments with washable special finishes
Suitable for both machine and hand washing
Biodegradable cleaning agents specially developed to protect delicate fibres
Works well in cool water often specified for delicate fabrics
A controlled-foaming formula reduces rinsing when washing by hand
Concentrated to maximise cleaning results and minimise environmental waste
Light floral fragrance
Dermatologically-tested
Rinses clean away to leave no residue to irritate sensitive skin
No phosphates
Safe for septic systems
Non-biological
USES

For delicate, colourfast, washable fabrics such as lingerie, silk items, hosiery, hand-knitted and woollen items, as well as synthetics such as nylon, rayon and polyester. All sports materials and microfibre fabrics.
HOW TO USE

When washing by hand, measure the right quantity (see chart) using the Pour and Measure Cap.
Disperse the liquid in water and leave clothing to soak for five minutes before hand washing.
Rinse and dry naturally, following the garment manufacturer's instructions.
When machine washing, be careful to set temperature for gentle cycle in cool water.