Health
NUTRILITE All Plant Protein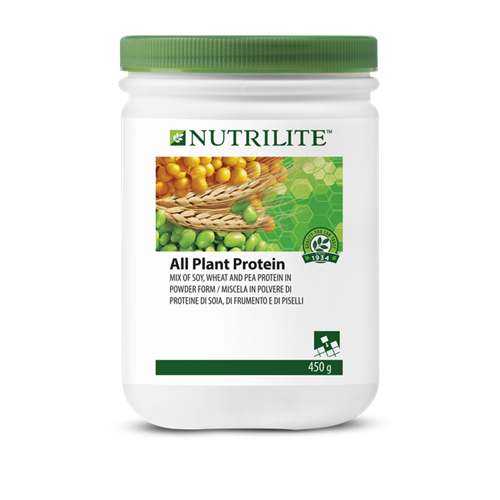 NUTRILITE All Plant Protein
NUTRILITE™ All Plant Protein Powder unlocks the power of "better". What makes it better? We gathered more good things from nature, grown and harvested with your health in mind. The unique, tri-blend of soy, wheat and pea gives you the right combination of proteins and amino acids to keep you feeling healthy and energetic, without animal products or dairy side effects. We optimised everything for a field-fresh formula that is:
All plant, vegetarian-friendly
Lactose free
Cholesterole free
Low Fat

450 g
FEATURES:
Ingredients derived from natural protein sources from soy, wheat and pea protein
Provides all nine of the essential amino acids.
Can be added to food and drinks without affecting the flavour
No artificial colours, flavours or preservatives added

BENEFITS:
Lactose free, for easier digestion
A great protein choice that is cholesterol free and low fat to support a healthy diet
Easy to mix with any beverage or food
Flavour-free so you won't even notice that the protein was added
PDCAAS Score = one, for a nutritionally complete protein source
RECOMMENDED FOR:
People who want to sustain energy.
People who strive to make healthier protein choices.
People who are exercisers/athletes.
People who are vegetarian.
People who are lactose intolerant.
People who are nutritionally conscious.

USAGE
All Plant Protein Powder is easy to add to beverages or foods. According to need, add one scoop (about 10g) of powder to
milk or other drinks once or several times per day. Try ideas such as:
Sprinkle over fruit, cereal or yoghurt.
Stir into any beverage. .
Sip away or enjoy your meal.
INGREDIENTS:
Soy Protein (82%)
Wheat Protein (10%)
Pea Protein (7.5%)
Emulsifier: Lecithin (from soy)
Anti-Caking Agent: Silicon Dioxide.
AVERAGE CONTENT
PER SERVING (10 g)
PER 100 g
Energy
170 kJ/

40 Kcal

1700 kJ/

400 Kcal

Fat
0.48 g
4.8 g
of which Saturates
0.06 g
0.6 g
Carbohydrate
0.32 g
3.2 g
of which Sugars
0 g
0 g
Protein
8 g
80 g
Salt
0.23 g
2.3 g
Essential Amino Acids
Isoleucine
390 mg
3900 mg
Leucine
660 mg
6600 mg
Lysine
510 mg
5100 mg
Methionine & Cystine
220 mg
2200 mg
Phenylalanine & Tyrosine
750 mg
7500 mg
Threonine
310 mg
3100 mg
Tryptophan
120 mg
1200 mg
Valine
400 mg
4000 mg
Histidine
210 mg
2100 mg
We Also Suggest