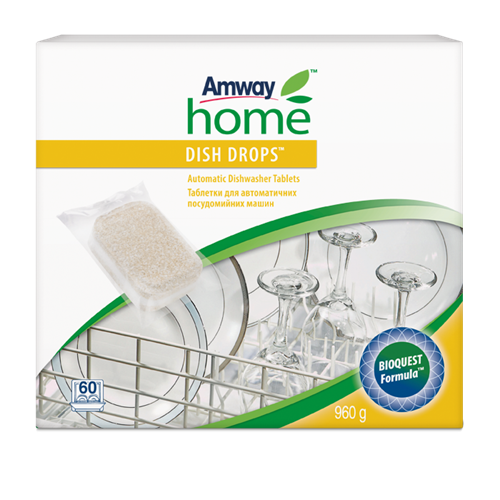 Dish Drops™ Automatic Dishwasher Tablets (60 tablets)
New and Improved AMWAY HOME™ Automatic Dishwashing Tablets are the concentrated, all-in one, convenient solution to leave your dishes free of grease, food, and film.
Highly effective dishwasher tablets in dissolvable wrappers. The improved soft water performance considerably reduces the risk of glass etching. They work brilliantly even at 40°C for greater energy savings.
Size: 60 tablets
FEATURES
DISH DROPS™ Automatic Dishwasher Tablets are an all-in-one formula. The tablets contain oxygen bleach, low temperature bleach activator, alkalinity agents, polymers, protease enzyme, amylase enzyme, salt and rinse aid.
Each tablet is a convenient single dose, wrapped in a water soluble polymer material.
The formula helps to prevent hard water filming and water spots.
The formula contributes to the reduction of the risk of glass etching in soft water conditions.
The tablets leave no messy clumps or detergent residue in the dishwasher.
SUGGESTED USAGE
DISH DROPS Automatic Dishwasher Tablets can be used to clean and protect all dishwasher-safe items of glassware, utensils, dishes, pots and pans.

Place one tablet in the dishwasher soap dispenser with dry hands. No need to remove the wrapper as it is water soluble.

Please be aware
Tablets are not for use on sterling silver, silver plate or unprotected aluminum.
In areas of hard water, add dishwasher salt and rinse aid regularly to the machine to maximise performance and prolong the life of the appliance.
We Also Suggest