At Home
SA8™ Concentrated Fabric Softener - Alpine (1 Litre)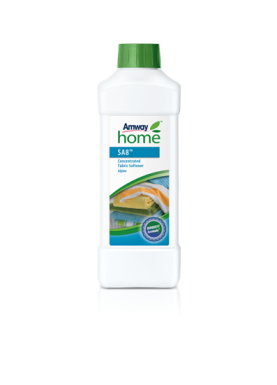 SA8™ Concentrated Fabric Softener - Alpine (1 Litre)
A liquid softener, now with two fragrances, which restores softness, maintains absorbency and reduces static cling for supreme comfort. Helps protect your clothes from excessive wear and tear.

Can be used both in the wash and in the dryer.
KEY FEATURES:
Softening agents derived from natural sources restore a 'soft feel' to clothes and linens,while maintaining the absorbency in towels
Softens fibres
No residue to potentially irritate skin
Gently relaxes fabric fibres, reducing creases and making ironing easier
Reduces fabric wear which extends the life of your clothing
Antistatic ingredients reduce static cling
Two fragrances, Alpine and Garden Blooms, leave clothes smelling fresh and clean; floralscent contains essential oils
Concentrated, so only 10 ml needed per 4.5/5 kg of dry wash load
Dermatologically- and allergen-tested
No phosphates, chlorine, dyes, EDTA, NTA
Suitable for hand and machine washing and dryers
Non-biological
USES
To restore a soft, fluffy feel to towels andbed linens and a just-bought softnessto clothing.
Helps reduce creasing andwrinkling for easier ironing.
Reduces static cling on both natural and synthetic fibres.

HOW TO USE
1 capful = 20 ml
Washing machine:
- Add 10 ml to fabric softener dispenserdrawer.
Hand wash:
- Add 5 ml to final 10 litres of rinse water.
We Also Suggest