At Home
SA8™ Premium Concentrated Laundry Powder Detergent (3kg)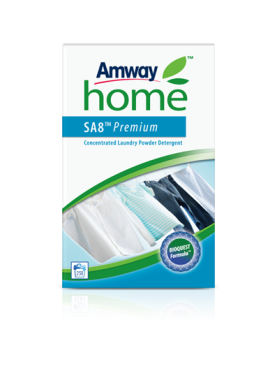 SA8™ Premium Concentrated Laundry Powder Detergent (3kg)
This laundry detergent has been scientifically developed to meet the needs of consumers who want powerful cleaning and stain removal performance, but also want a product that is environmentally friendly.
KEY FEATURES:

A unique combination of bio-enzymes, biodegradable cleaning ingredients, natural water softener and a bleaching additive that all culminate to remove dirt and tough stains effectively
The natural water softener improves cleaning performance
Cleans at all temperatures (30°C - 95°C)
Active oxygen bleach removes stains, making clothes appear whiter and brighter
Rinses clean, leaving no residue to irritate sensitive skin
Contains silicates to inhibit metal corrosion of clothing fasteners or washing machines
Excellent dissolvability means the formula gets to work immediately, attacking difficult dirt and stains such as egg, blood and grass
Concentrated to maximise cleaning results and minimise waste
Dermatologist/allergist tested
Safe for septic systems
Lightly fragranced with a citrus scent, containing essential oils
Phosphate-free
USES

For use on whites and most coloured clothing. Works at all temperatures from 30°C - 95°C. Highly effective on greasy, oily stains.
HOW TO USE

Sort clothes by colour, fabric and degree of soiling.
A void overfilling the machine.
Select water temperature. For best results use the warmest water temperature recommended for the load being washed.
This detergent contains an activated oxygen bleach so no further bleach required.
We Also Suggest