Beauty
ARTISTRY™ Intensive Skin Care Renewing Peel (20ml)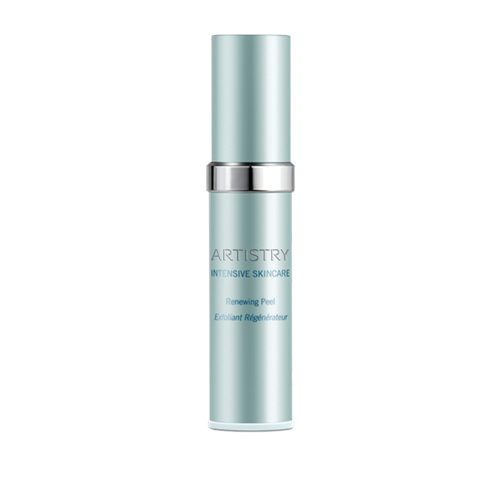 ARTISTRY™ Intensive Skin Care Renewing Peel (20ml)
First at home peel treatment. 8 Pumps, 8 minutes! Inspired by dermatological treatments, the Intensive Skincare Renewing Peel gently re-textures and renews the skin's surface.

Contains a natural mushroom enzyme and conditioning Nutrilite™ sourced chia seeds oil. In just one use, the skin will feel smoother, softer and more radiant. After six weeks of using the product, the appearance of fine lines and age spots will fade.
Apply twice weekly.
FEATURES
Contains Mucor Miehei Mushroom Extract
Mucor Miehei Mushroom Extract is a self-neutralising enzyme dependent on the pH of the skin of each individual user; once the pH of the preparation exceeds 5.5, exfoliation automatically ceases
Enzymatic activity is confined to the top surface of the skin where pH is below 5.5
Contains Nutrilite-sourced Chia Seed Oil rich in essential fatty acids
Formula with higher levels of the enzyme is sold only to physicians
Contains Tocopheryl Acetate (Vitamin E)
Dermatologist-tested, allergy-tested, human-patch tested, skin irritation tested, skin sensitisation tested

BENEFITS
Naturally replicates the skin's own enzymatic exfoliating mechanisms
Will not over-peel or irritate skin
Exfoliates only dulled top layer of skin by loosening dead skin cells
Help maintain skin's normal moisture barrier functions
Lower dose achieves professional benefits gently, in the comfort of your own home
A known anti-oxidant that helps protect skin from environmental aggressors
Safe for all skin types including sensitive Asian skin.
RECOMMENDED FOR:

USAGE:
Smooth a moist layer of 8 full pumps of Renewing Peel over the face, avoiding the eye area. You may notice a slight redness or tingling sensation during use. This is a normal reaction and is an indication that the product is working.
Leave on the skin 6-8 minutes. The product may not dry completely.
Wet fingertips and massage skin. Rinse with warm water, pat skin dry.
SPECIAL INGREDIENTS:


Mucor Miehei Mushroom Enzyme
- Replicates the natural exfoliation process of the enzymes found in the skin, resulting in a safe, painless peel.
Chia Seed Oil
- Grown at Nutrilite farms, rich in Omega-3 fatty acids. Helps repair the skin's natural moisture barrier, an important step when using exfoliating products.
Barrier Liposome
- Containing ceramide, phospholipids and natural oils to help restore the moisture barrier after treatment.
Red Seaweed Extract (Carrageenan)and Glycerin
- Reconditions the skin even when the product is rinsed off, adding moisture and hydration.
We Also Suggest