Health
NUTRILITE™ Fibre Powder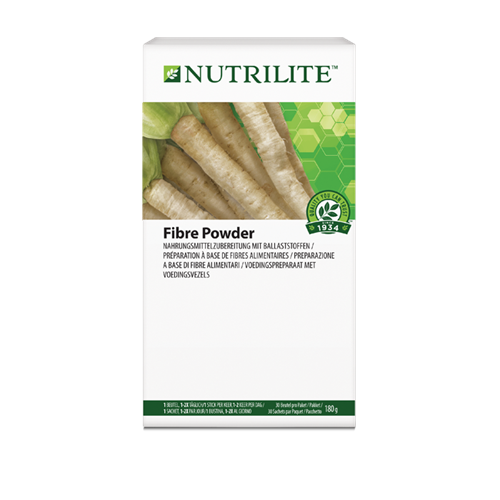 NUTRILITE™ Fibre Powder is a special blend of three soluble fibres from naturally-derived plant sources. It offers a convenient way to get additional fibre and is taste-free, easy-to-mix dry powder which can be sprinkled on food or mixed into liquids.The recommended daily intake of fibre for an adult is 21 to 38g daily. This product contains 6g soluble fibre and can be taken in conjunction with other NUTRILITE™ products.

Size: 30 x 6 g sticks
KEY FEATURES:
Contains soluble dietary fibre from three plant sources
Lowers the absorption of fats in the body
Quick and convenient way to contribute to daily fibre intake
Formulated to be gentle on the stomach
Non-gritty and odourless powder blends easily with any non-carbonated beverage or can be sprinkled on food without adding significant taste
Suitable for use in cooking
No artificial colours, flavours or preservatives added
POTENTIAL USERS:
Those who do not consume sufficient amounts of complex carbohydrates in their diet
Those who do not eat sufficient amounts of whole grains, fresh fruits and vegetables
Suitable for diabetics (content of carbohydrates and kilojoules are negligible)

USAGE:
Always dissolve contents of one stick pack in 250 ml to 375 ml of water or juice, or sprinkle on food and drink a full glass (250 ml) of liquid with each serving.For adults and children 12 years of age or older, one to two stick packs per day, gradually increasing fibre intake. Best if consumed with a meal.
ADVISORY:
Keep out of reach of children.
This product is no substitute for a varied diet.
Do not exceed the recommended daily dose.
INGREDIENTS:
Resistant Dextrin
Inulin
Partially Hydrolysed Guar Gum.
NUTRILITE™ Fibre Powder
Average content
Per Serving (6g)
Per 100g
Energy
50 kJ (12 kcal)
835 kJ (200 kcal)
Protein
0g
0g
Carbohydrates, of which
0.6g
10g
Sugars
0.5g
8g
Fat, of which
0g
0g
Saturates
0g
0g
Fibre
5g
83g
Sodium
0g
0.03g