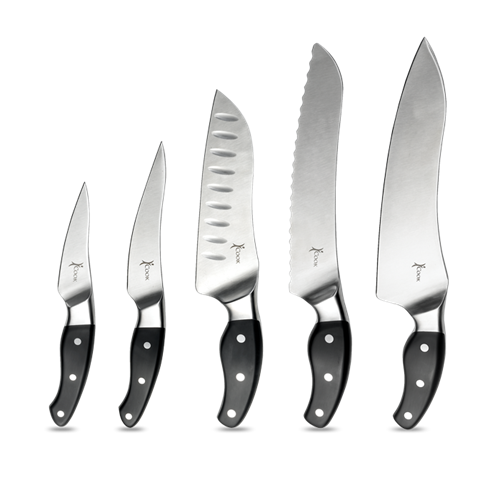 The exclusive iCOOK™ Knifeware Set offers five premium forged, German stainless steel knives designed by renowned knife expert, Ken Onion, and endorsed by iCOOK™ Culinary Specialist, Jason Roberts.

Great cooking begins with good cutting. Good cutting begins with iCOOK™ Knifeware.

The Knifeware set includes the storage tray.
FEATURES:
Forged stainless steel.
Ergonomically designed handle.
Curved cutting edge.
German stainless steel called DIN 1.4116.
Hollow ground "grantons" on the Santuko knife.

BENEFITS:
A fully forged knife, such as iCOOK™ Knifeware, is one where the blade, bolster and tang are formed from one piece of metal. The forged construction is considered to be very strong, durable and long lasting.
Specifically designed curvature on the underside that adds control and stability especially when cutting larger, harder foods.
The cutting edge is curved to match the natural action of the wrist while cutting. This curvature also helps prevent the need to involve the elbow and shoulder when cutting. When cutting with the wrist alone, you maintain better control over the blade edge.
This steel is specially formulated for forged knives.
Allow the foods you are cutting to release more easily from the side of the blade. It is ideal for cutting foods that stick to the blade - such as potatoes. It is also great for cutting meats, fish and vegetables.
Set includes:
10cm Paring Knife -Best for peeling fruits and vegetables, sculpting garnishes, "eyeing" potatoes.
4-inch (10cm) blade
8-inch (20.3cm) overall
12.5cm Petty Knife - This smaller bladed knife works well for a variety of tasks like boning meats, trimming fat, or cutting fruit.
5-inch (12.5cm) blade
91⁄2-inch (24cm) overall
17.5cm Santoku - A beautiful, functional knife with a design of Japanese origin. Excellent multipurpose knife with a granton edge (oval dimples ground into the sides of the Cutting Edge to keep food from sticking to the blade as you cut). Ideal for slicing, dicing and mincing foods that tend to stick to knives, such as potatoes. Good for cutting meats, fish and vegetables.
7-inch (17.5cm) blade
11-inch (28cm) overall
20cm Slicer - A long serrated edge makes this knife best for slicing soft foods and those with a crust or skin. Slice right through foods like bread, cake, tomatoes, and citrus fruits with no mess.
8-inch (20cm) blade
121⁄2-inch (31.7cm) overall
22.5cm Chef Knife - Excellent multipurpose knife. Great for a multitude of tasks, including slicing, dicing and mincing.
9-inch (22.5cm)blade
131⁄2-inch (34.2cm) overall
Storage tray

How are the iCOOK™ Knives constructed?
There are two main parts to an iCOOK™ knife:
- A single piece, fully-forged blade, bolster, and tang
The blade is made from a German stainless steel called DIN 1.4116. This steel is specially formulated for forged knives.
The handles are made from a plastic called polyoxymethylene. It is a handle material that is commonly used in high-end knives.

Why is it important to sharpen my knives?
For three reasons:
Safety. Forcing a cut with a dull knife is one of the easiest ways to injure yourself. Properly sharpened and maintained knives actually help prevent accidents.
Good cutting action. You will get straighter, cleaner cuts with a sharp, well-maintained knife than you will with a dull knife.
Comfort. Using a high level of force over an extended period of time can cause discomfort to your hand. Keeping your knives sharp makes it easier to cut, thereby reducing the required force and time per use.

How do I sharpen my knives?
The iCOOK™ Knifeware & Shears Sharpener, sold separately, may be used to hone the Chef's Knife, Santoku, Petty Knife, and Paring Knife, as well as the Shears. The Slicer requires professional sharpening due to its serrated edge.
We Also Suggest