Health
NUTRILITE™ Rhodiola 110 - 60 tablets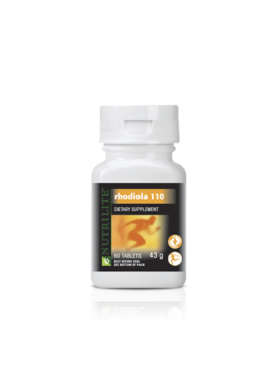 NUTRILITE™ Rhodiola 110 - 60 tablets
NUTRILITE™ Rhodiola has been designed to help maximise mental and physical performance during exercise. Research also suggests that it may shorten recovery time. The central ingredient in this supplement is rhodiola, an Arctic herb used as an all-purpose adaptogenic tonic since ancient times. More recently, Russian scientists have studied its ability to enhance performance and combat stress.
FEATURES AND BENEFITS:
Before you reach the weight room, conference room or classroom, reach for Rhodiola 110.
Adaptogenic rhodiola rosea combats and increases resistance to stress.
May shorten recovery time.
Enhances mental and physical performance during exercise.
RECOMMENDED FOR:
Men and women with busy lifestyles
Men and women looking for energy boost for mental alertness and stamina

USAGE:
Take 1 or 2 tablets before physical activity.
INGREDIENTS:
Dextrose
Green Tea (24%)
Rhodiola Rosea Extract (14.5%)
Stabilisers: Microcrystalline Cellulose, Crospovidone, Hydroxypropyl Methylcellulose
Spinach Powder (7%)
Anti-caking Agents: Maltodextrin, Silicon Dioxide, Fatty Acids, Magnesium Salts of Fatty Acids
Acerola Concentrate (4%)
Ascorbic Acid
Humectant: Glycerol
Glazing Agent: Carnauba Wax
NUTRILITE™ Rhodiola 110 Nutrition Information
Per tablet
Vitamin C
30mg
40%*
Rhodiola rosea extract (root)
100mg
Caffeine
75mg


* % of Recommended Daily Allowance
We Also Suggest