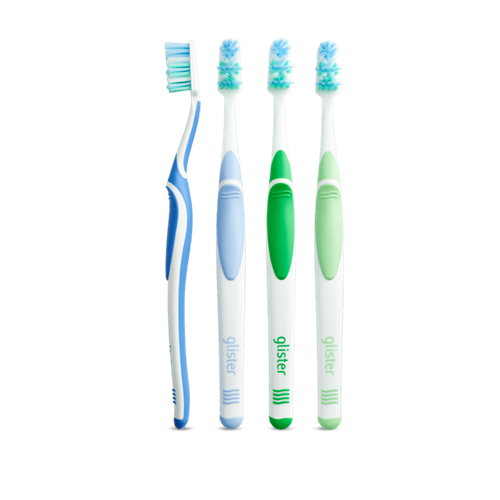 Glister™ Toothbrush (Pack of 4)
Complete oral care toothbrush that is gentle to your gums. The unique, narrow head has both soft and medium bristles to give improved cleaning between the teeth and at the gum line. The newly designed handle with non-slip grip offers improved comfort, control and reach, while brushing.
FEATURES:
Flexible neck
Unique head design created with patented process and narrow tip
A combination of soft and medium bristles
Extended tip
Unique handle design with non-slip grip

BENEFITS:
To gently bend and absorb brushing pressure that may irritate gums
Reaches easily into all parts of the mouth
Improves interdental cleaning, plaque removal and massage
To clean hard-to-reach back teeth
Designed for improved comfort, control and reach
The GLISTER™ Advanced Toothbrush is the perfect partner for the GLISTER™ Multi-Action Fluoride Toothpaste.
The rounded bristles gently clean teeth and gums. The neck of the toothbrush is designed to flex; this reduces excess pressure, which can lead to abrasion and gum damage, as well as toothbrush fatigue. To maintain optimum brushing effectiveness, your toothbrush should be replaced every three months.
We Also Suggest