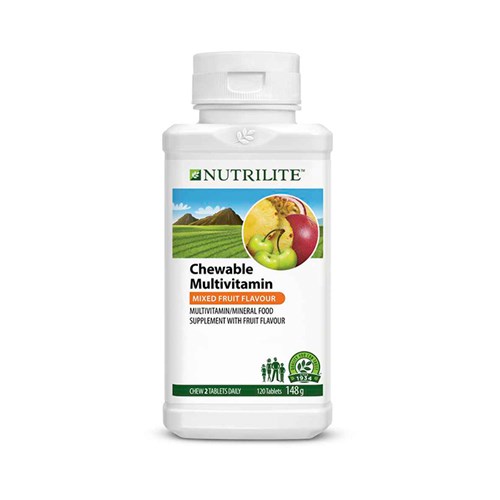 NUTRILITE™ Chewable Multivitamin - 120 tablets
A good-tasting, chewable food supplement providing beta carotene, 11 vitamins and 4 minerals with NUTRILITE™ Phytonutrient Concentrate, Plant Compounds from NUTRILITE™'s exclusive concentrates, formulated especially for children to supplement their daily vitamin and mineral intake.
Also for adults who prefer chewable tablets.
FEATURES:
For children, provides recommended amounts of beta carotene, 11 vitamins and 4 minerals.
Contains the NUTRILITE™ Tropical Fruit Concentrate.
Chewable.
Natural orange, vanilla and liquorice flavour.
Sweetened with fructose.
No artificial sweeteners, preservatives, flavours or colours added.
Child-resistant closure.

BENEFITS:
Helps children meet the needs of their growing bodies.
NUTRILITE™ Phytonutrient Concentrate Plant Compounds, which may provide additional nutritional benefits.
Easy to eat for children and others who have difficulty swallowing tablets.
Enjoyable taste.
Fructose is sweeter than sucrose, so less is needed.
Especially suitable for those who want to avoid artificial ingredients.
Safe for the family environment.
RECOMMENDED FOR:
Is an older child or adult who has difficulty swallowing tablets and prefers a chewable multivitamin/ multi-mineral tablet
Is not sure of the nutrient content of the foods they eat because the foods are highly processed, cooked, and/or have been stored for extended periods of time, thus reducing freshness
Finds it difficult to eat fresh fruit, vegetables and whole grains every day

USAGE:
Children: Chew 2 tablets daily in divided doses
Adults: Chew up to 4 tablets daily in divided doses
Preferably take supplements with a meal.
INGREDIENTS:
Dextrose
Fructose
Calcium Carbonate
Magnesium Oxide
Maltodextrin
L-Ascorbic Acid
Tropical Fruit Concentrate Powder (Acerola Cherry, Passion Fruit, Pineapple, Cahsew Fruit, Guava)
Partially Hydrogenated Vegetable Oil
Natural Flavourings (with Soy Lecithin)
Stabiliser: Microcrystalline Cellulose
Corn Starch
Anti-caking Agents: Fatty Acids, Silicon Dioxide
Sucrose
Ferrous Fumarate
Nicotinamide
D-Alpha-Tocopheryl Acid Succinate
Zinc Oxide
Calcium Pantothenate
Pyridoxine Hydrochloride
Thiamine Mononitrate
Beta-Carotene
Riboflavin
Folic Acid
Biotin
Lactose
Cholecalciferol
Cyanocobalamin
NUTRILITE™ Chewable Multivitamin Nutrition Information
Per 2 tablets
Per 100g
Energy
24.8 kJ (5.8 kcal)
1245 kJ (294 kcal)
Protein
0,02 g
0,96 g
Carbohydrates
1,35 g
67,88 g
of which sugars
1,17 g
58,90 g
Fat
0,04 g
2,04 g
of which saturates
0,01 g
0,52 g
Fibre
0,18 g
9,04 g
Sodium
trace
0,02 g
NUTRILITE™ Chewable Multivitamin Nutrition Information
Per 2 tablets
%EU RDA†
Per 4 tablets
%EU RDA†
Beta Carotene
1 mg
+
2 mg
+
Vitamin D
5 µ
100 %
10 µ
200 %
Vitamin E
7.5 mg
75 %
15 mg
150 %
Vitamin C
45 mg
75 %
90 mg
150 &#37
Thiamine (B1)
0,9 mg
64 %
1,8 mg
128 %
Riboflavin (B2)
1,05 mg
66 %
2,1 mg
132 %
Niacin
12 mg NE
67 %
24 mg NE
134 %
Vitamin B6
1 mg
50 %
2 mg
100 %
Folacin (Folic Acid)
100 µ
50 %
200 µ
100 %
Vitamin B12
0,75 µ
75 %
1,5 µ
150 %
Biotin
50µ
33 %
100 µ
66 %
Pantothenic Acid
4 mg
67 %
8 mg
134 %
Calcium
136 mg
17 %
272 mg
34 %
Iron
5 mg
36 %
10 mg
72 %
Magnesium
51 mg
17 %
102 mg
34 %
Zinc
5 mg
33 %
10 mg
66 %


†RDA = Recommended Daily Allowance
+No RDA established
We Also Suggest