Health
NUTRILITE™ Garlic - 120 tablets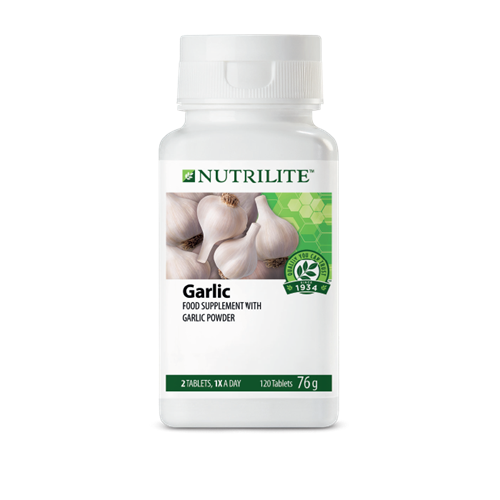 NUTRILITE™ Garlic - 120 tablets
NUTRILITE™ Garlic is a unique blend of the herbs: garlic and peppermint. Garlic has been used for centuries for its implicit benefits, including strengthening the constitution and improving resistance. This product is a convenient way to obtain the benefit of garlic without the unpleasant odour side effects. The garlic in this product is combined with a pleasant peppermint flavour. The garlic and peppermint in this product are sourced from the NUTRILITE™ Trout Lake Farm.
FEATURES:
385 mg of concentrated garlic per tablet.
2 tablets provide 13.5 mg of alliin.
2 tablets provide 6 mg of allicin (created when garlic is crushed and its two components, alliin and alliinase, interact).
Peppermint flavour.
No garlic after-taste.
Enteric coating.
No artificial flavours, colours or preservatives added.
2 tablets contain 770 mg garlic powder.

BENEFITS:
Used throughout history as a herbal panacea, current research confirms its role as a beneficial supplement.
Provides consistent quality and standardised measure of alliin, the precursor of allicin, which is the major active constituent in garlic.
Pleasant flavour to provide odour control and is also a natural soothing herb.
Will not offend you or others.
Protects the active components in the garlic during their transit through the acidic stomach evironment.
Especially suitable for those who wish to avoid artificial additives.
RECOMMENDED FOR:
Anyone who wishes to supplement a well-balanced diet with the benefits of garlic, but without the odour
Anyone who wishes to supplement without artificial flavours, colours or preservatives
USAGE:
Take two tablets daily, preferably with a meal.
INGREDIENTS:
Garlic Powder (Allium sativum, 60%)
Stabilisers: Microcrystalline Cellulose, Sodium Carboxym-Ethylcellulose, Methylcellulose
Anti-Caking Agents: Fatty Acids, Silicone Dioxide
Natural Peppermint Flavour
Glazing Agents: Shellac, Carnauba Wax
NUTRILITE™ Garlic Nutrition Information
Per 2 tablets
Per 100g
Energy value
2.04 kcal (8.6 kj)
158 kcal (666 kj) Per 100g
Protein
0.02 g
1.5 g
Carbohydrates
0.4 g
30.9 g
Fat
0.04 g
3.1 g
We Also Suggest